Spring reception of the BMBF joint project HUMAINE
22.03.2022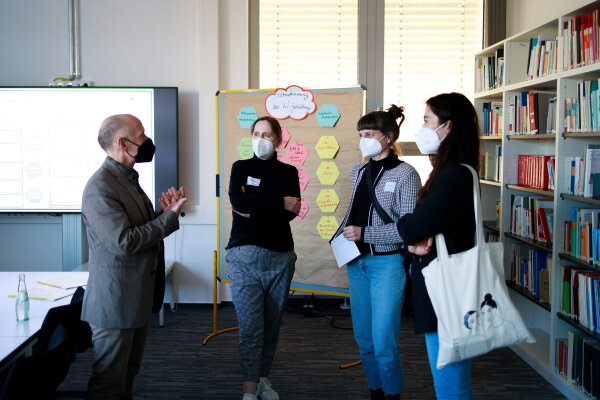 At the spring reception of the BMBF joint project HUMAINE on 18 March 2022, Dr. Niewerth and Prof. Dr. Manfred Wannöffel presented a "Procedure model for workplace representatives for proactive support of AI implementation and use" to an interested audience from science and practice.
© Michael Schwettmann
After the welcome by Prof. Dr. Uta Wilkens, Prof. Dr. Günther Meschke, Prorector for Research and Transfer, opened the spring reception at the O-Werk on the technology and start-up campus of the city of Bochum, Mark 51°. Numerous guests from industry, the health industry, the start-up scene, politics and administration came and became feedback partners and multipliers.
© Michael Schwettmann
With a video message from State Secretary Dr. h.c. Thomas Sattelberger (BMBF), the importance of the HUMAINE project was put into perspective.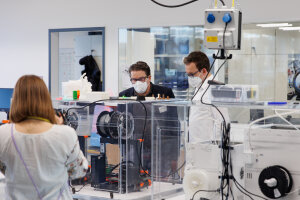 © Michael Schwettmann
Guests at the O-Werk were able to inform themselves, exchange ideas and actively participate in interesting pilot projects and a wide range of topics related to human-centred work with AI.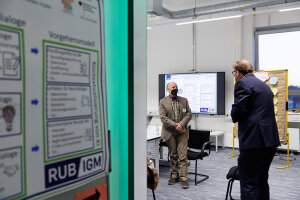 © Michael Schwettmann
The Centre of Cooperation RUB/IGM presented its concept on the procedural model for the introduction of AI from the perspective of workplace co-determination at the spring reception.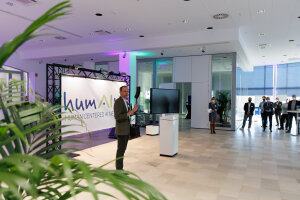 © Michael Schwettmann
The resulting concrete approaches to thinking and designing, in which one can participate, were then presented in conclusion by Prof. Dr. Laurenz Wiskott.